4
min read
AliExpress dropshipping suppliers offer several shipping options to move products from China to anywhere in the world.
Dropshipping products from China takes a lot of time on regular days but, during the holidays and crisis, it even takes longer than a month. Most dropshippers are relying on ePacket to deliver their products to their customers as it offers cheaper rates and faster shipping time than other shipping companies. That's why when ePacket is facing issues in moving products from China to other countries specifically the USA, dropshipping business owners find ePacket alternatives to ensure that they get delivered on time to customers.
Fortunately, AliExpress suppliers offer multiple shipping options based on your budget and needs. If you want to reduce product costs, you can opt for free shipping but with longer shipping time. When faster shipping is a priority for you, there are shipping companies with branches in China that can make that possible for you with the right. Just ready to spend more with expedited shipping than you do with ePacket and slower shipping services.
What are the different shipping options in AliExpress?
Be it delivery methods with extra fees and without any or standard shipping or expedited shipping, you can find a wide range of shipping options in AliExpress. These include:
China Post Air Parcel

China Post Ordinary Small Packet Plus

China Post Registered Air Mail

DHL

DHL Global Mail

e-EMS

EMS

FedEx

HongKong Post Air Mail

HongKong Post Air Parcel

Russian Air

S.F. Express

Singapore Post

Special Line-YW

Sweden Post

Swiss Post

TNT

TOLL

UPS
To get the info on their pricing and estimated shipping times, visit their respective website directly. To find the fastest international shipping method on AliExpress, just visit the product page of the seller on AliExpress and look at the dropdown menu in the shipping option. It should look like this.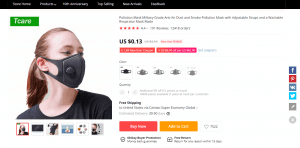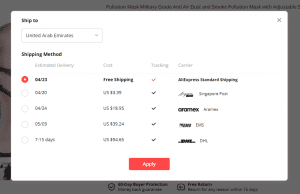 Finding ePacket alternatives is not the only solution when shipping with ePacket takes longer than usual. As shipping delays are common with all shipping companies during the holiday season or critical times, picking other methods of delivering packages cannot guarantee faster delivery to customers. 
If the issue is logistical restrictions in the country of destination, any shipping companies going into the country will all get delayed. When this is the issue you'll encounter, paying higher shipping fees to DHL or FedEx will not be an assurance of fast delivery. Instead, use measures that can shorten shipping time without paying more money and still make your customers happy.

How to deal with long shipping times?
Long shipping times can happen when dropshipping products from China. On regular days, opting for a faster and more expensive shipping method can resolve this problem. However, when all shipping companies are experiencing longer shipping times or shipping delays, simply changing the shipping method will not make things better. You'll just be wasting money on exorbitant shipping fees.
Below are recommended strategies to prevent complaints from your customers when they can't get their orders within the time frame that you promised them.
Dropship from the country where your customers are.
There are two ways you can do this. One, pick an option to ship from other countries where AliExpress has warehouses. If you're selling to the USA, find an AliExpress supplier shipping to this specific country. Another way to avoid long shipping times is to look for dropshipping suppliers in the country you're selling products. Check out this article to learn how to look for dropshipping suppliers. 
Sell unique products that are hard to find.
When you sell a unique product that is not easy to find anywhere, people would willingly buy from you, no matter how long it will take to ship it. Find a product or niche that people can't buy on brick and mortar stores or from other dropshipping stores. This will reduce if not eliminate the issue on the long shipping times.
Be transparent with your shipping times.
Let the shoppers know how long the shipping of the items might take. Don't make the mistake of hiding it because the consequence can be very damaging to your business. American customers are not used to waiting this long for an item to arrive, and if they do not know, you are likely to receive additional chargebacks, bad reputation and a lot of angry customers. This article presents case studies on how you can prepare your dropshipping store to prevent this from happening.
Handle shipping delays the right way
Shipping delays due to manufacturer, customs, and logistical issues can make package delivery longer. To reduce the impact on your dropshipping business, follow the measures recommended in this article.
Key Takeaway
Multiple shipping methods are available when dropshipping products from China. When ePacket is having shipping issues that do not affect other shipping services, choosing from ePacket alternatives listed in this article might be a sound solution. Expect to spend more money on shipping fees with a faster shipping method and make sure to factor them in when pricing your products to avoid underpricing. 
However, if shipping delays and longer shipping times are caused by an upsurge in deliveries during the holiday season or due to import and export restrictions brought by the crisis, try out the recommended methods in this article. Don't let shipping hurdles stop you from dropshipping. The solutions are here so check them out.