4
min read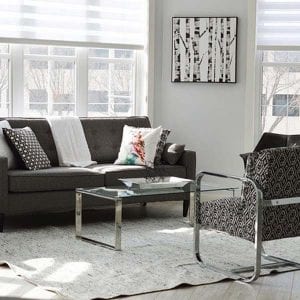 Not every dropshipping niche is a viable niche. You must choose profitable niches to become successful in this industry.
The success of your dropshipping business relies on the selection of your niche. The niche you choose establishes how well your dropshipping products will perform. Therefore, you should pick a niche where you can earn a lot of money and we can help you with that.
Picking a niche for dropshipping is a daunting task. To help you decide which niche to pursue we come up with a list of the 4 insanely profitable niches for 2020. Let's get started!

What are the best niches for dropshipping to make good money from?
When it comes to dropshipping, the best dropshipping products to sell are those that people are already buying. The niche market should be any of the following:
People with a problem need to be solved.
People who are passionate about something and ready to spend money on it.
People who have the disposable income to pay on stuff.
When you're solving a problem for someone with your products, those are the best niches for dropshipping. You are meeting the demands and expectations of a specific group. Four of the most profitable niches this year, don't only provide the solution to the problem or meet expectations, they also have solid global market shares that ensure profitability in these markets.
The cosmetics market spans several categories like skincare, makeup, lipstick, eyelash curlers, toiletries, and more. It has a variety of options to build a niche dropshipping store with. According to Statista, skincare was the leading cosmetic category in 2018 with a global market share of 39 percent. With the global cosmetics market forecasted to surpass USD 390 billion by 2024, this niche offers great profit potential for dropshippers.
Looking at people's interest in cosmetics on Google Trends, the niche showed sustained interest throughout the year.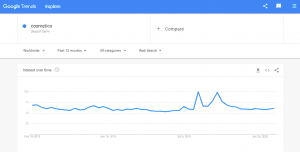 The cosmetics niche was found to be most popular in:
Montenegro
Serbia
Trinidad & Tobago
Latvia
Australia
Puerto Rico
United States
Greece
Philippines
Pakistan
The Home Décor market is a huge market that is strong and growing quickly, making it an excellent niche to carve out your dropshipping store. There are so many profitable niches under this category like wall decors, vases, rugs, clocks, lighting, decorative mirrors, and more. According to a report by the Goldstein Research, the increase in construction of new buildings are powering the growth of the global home décor market, particularly in the housing sector in the US and Europe. The global home décor market is expected to hit almost USD 50 billion by 2024.
With the rising interest in the home décor niche, dropshipping products with this category is an opportunity you should seriously consider. The demand for home décor is all year round which means there is a high probability of continuously generating sales on this niche.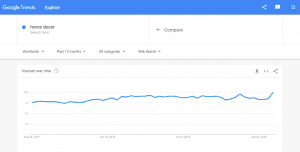 The top 10 countries actively searching for home décor on Google Trends are the following:
Sri Lanka
Philippines
South Africa
United States
Nepal
Azerbaijan
Canada
Puerto Rico
United Arab Emirates
Singapore
The global handbag market size in 2018 was valued at USD 47.0 billion and is forecasted to increase in the years to come. The worldwide demand for the product was driven by the rise in women's workforce and the increase in brand awareness.  Demands for handbags by working-class women from countries like Indonesia, South Korea, India, China, and the UK have grown rapidly and significantly. This is expected to remain a major trend in the market according to this report.
Though there is sustained interest in handbags all year round, Google Trends showed that it is increasing this year.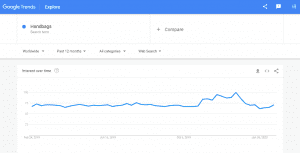 This niche is most popular in:
Trinidad & Tobago
United Kingdom
Ireland
Jamaica
Australia
South Africa
New Zealand
United States
Sri Lanka
Kenya
Toys are a big hit for both children and women alike. It generated nearly $21 billion in sales in 2018 in the US. With such a large market comprised of plush toys, action figures, vehicles, dolls, building sets, and more, you'll surely find a hot, profitable for your dropshipping business. In 2018, the global market size of construction toys that helps in the cognitive development of kids was valued at USD 10.40 billion. It is forecasted that the demand for this type of toy from education systems will continue to rise.
Although the supermarket distribution channel took the biggest chunk of the market, the online distribution channel is anticipated to reach a CAGR of 10.0 % from 2019 to 2025. With working-class parents finding it convenient to shop online than visiting brick and mortar stores, selling products in the toys niche would be a lucrative pursuit for you.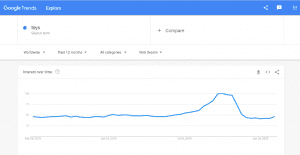 Google Trends shows the rising interest in toys in the following countries:
Ireland
United Kingdom
Canada
Australia
United States
South Africa
Singapore
New Zealand
United Arab Emirates
Hong Kong
This niche is especially popular in December.
Final Words
Now that you know the 4 insanely profitable niches for 2020, the decision is yours on which one to go with. As for finding the winning dropshipping products for your chosen niche, you can make use of our service to facilitate product research and plan out your marketing strategies. Just click through to our FAQ for more info.