5
min read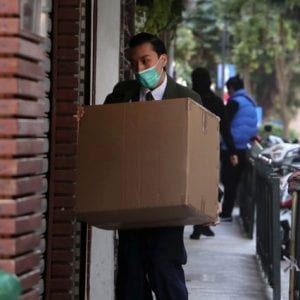 The coronavirus pandemic has opened opportunities for dropshipping business players but, it makes the game more difficult for them too.
The coronavirus issues continue to be a big hurdle to dropshipping business owners nowadays. With lots of countries under quarantine, would-be dropshipping entrepreneurs find it hard to decide on whether to start or not their dropshipping stores at these times. Even though China is now restoring most of its business operations because the coronavirus cases are decreasing in the country every day, the problem now lies in the countries of destination. As affected countries go into lockdown and implementing factory closures and travel restrictions, shipping packages to customers takes longer and more expensive than usual.
With the US and the UK as major consumers of products made from China, the coronavirus crisis affecting the economy of these countries made dropshipping products more difficult than before. Growing concerns about the viability of dropshipping at these times are being expressed almost everywhere from Facebook groups to forum communities. As a dropshipper, should you be concerned?
To shed light on the most pressing concerns that dropshipping business owners have during the coronavirus crisis, let's look more closely at the most common coronavirus issues you'll likely face in your dropshipping operation.
Coronavirus Issue #1: Virus transmission via packages
The virus can't be transmitted through letters and parcels. It needs a carrier to be passed mainly from person to person. Coronavirus transmission is not airborne and can't be contracted by touching packages from China. The WHO has posted FAQs about the pandemic on its website to educate people about the virus. According to a recent UCLA study, the virus can survive for as long as three days on plastic and stainless steel and only 24 hours on cardboard. This means that products or packages that have been shipped for at least a week like those coming from China are at low risk of spreading coronavirus.
To make your customers understand that packages from China are safe to touch or inhale, post a banner on your website that links to the UCLA study and the FAQ page of the WHO.
Coronavirus Issue #2: Fulfillment problems in China
With coronavirus receding fast in China, many Chinese companies are back in business. Factories are operational again and AliExpress suppliers are fulfilling orders from dropshippers. To ensure that the dropshipping supplier that you want to source dropshipping products from are already on the full operation, contact them before you start running ads and accepting customer orders. This way, you'll get firsthand information on the current shipping times and availability of the products that you want to dropship.
Coronavirus Issue #3: Viability of dropshipping right now
Economic crisis happens from time to time and it can affect many aspects of life. With AliExpress suppliers already back to work, nothing can stop you from dropshipping right now. You can launch your dropshipping store anytime you're ready.
Mails and packages are considered essential thus, delivery will continue even in the coronavirus-ridden places. Delays are expected but understandable these days. So, no need to concern yourself about long shipping times when dropshipping from AliExpress. People have needs and if you can address them with your products, you're likely to get lots of sales despite the dropshipping challenges the pandemic brings. Find tips on how you can get boost your sales from this article.

Coronavirus Issue #4: The best niches for dropshipping at these times
People's shopping behavior is shifting with the onset of the Coronavirus making it harder for dropshipping businesses to get sales with impulse buying. With people staying inside their homes to avoid virus infection, they stock up only essential things by shopping online rather than going to brick-and-mortar stores.
The shift in the U.S. consumers' buying behavior shows that they will not be buying home décor, travel gear, toys, and electronics anytime soon. They would want to invest in products that will keep them safe and healthy during the Coronavirus era. If you want to dropship to the U.S. at these times, you should modify your product strategy based on the current demand of your target audience. Look for dropshipping products that have the potential to sell like crazy due to the spreading virus and start with these best niches for dropshipping this 2020.
Coronavirus Issue #5: Shipping concerns from China to other countries
Many European countries are currently on lockdown and if the coronavirus infection keeps on increasing, other countries are expected to follow suit. Regardless if you dropship from China or AliExpress suppliers' warehouses in the US or Europe, getting the products delivered within your usual estimated shipping times to your customers is next to impossible.
Even the fastest shipping method like DHL will not be able to expedite the product delivery for you. The shipping company has posted information about its delivery operation in Europe on their website. If you're planning to use their shipping service, check out their site from time to time to keep yourself updated as changes can happen anytime. By keeping track of the situation in the countries you're selling your products to, you can immediately make adjustments in your business when shipping to these destinations will be more of a liability to you.
Dropshipping products to the United States is still alive despite the travel restrictions. As shipping companies are considered by the federal government as "critical infrastructure", they do not have to stop operation. DHL, FedEx, and the United States Postal Service continue delivering packages to anywhere in the United States. Thus, dropshipping at these times is absolutely viable.
Coronavirus Issue #6: ePacket not operating normally
ePacket is limiting its operation in some countries due to the coronavirus crisis. Although all shipping companies are having shipping delays delivering packages to affected countries, not having ePacket as an option might require them to spend more on shipping fees than they used to. To address this issue, here is a list of ePacket alternatives that you can try.
The higher shipping cost does not necessarily mean that you'll end up with a low-profit margin. If you're using the right pricing strategy in your products, you can still enjoy better profits despite the increase in the cost of the product. This article discusses three pricing strategies that would be helpful for you to stay profitable during the coronavirus crisis.
Final Words
Despite the restrictions and temporary shutdown of manufacturing and logistics facilities in coronavirus-ridden countries, dropshipping remains a viable business venture for dropshippers. Disruptions can cause delays and money but, preparing for them beforehand can lessen the impact in your dropshipping business.
Be upfront and honest about the situation to your customers. Customers appreciate businesses that keep them informed about their orders. Some of them will be understandable with the situation and wait while others don't. For those who can't wait, be prepared to offer refunds on their purchases. By providing great customer service at these times, you are more likely to keep your customers' business despite the shipping delays in dropshipping. So, what are you waiting for? Start your dropshipping business now!