8
min read
A VIP web experience for your VIP prospects
It's the first sign of light after what could be months of hard slog on your ABM (account-based marketing) campaign. You generate your first lead from one of the accounts on your ABM target list. Hooray! High fives all round for sure.
After reflecting on how to build an ABM list for success, how to figure out which companies are coming to your website, and how to get ABM accounts to your website – we've now landed here. How to get individual named companies to convert to your website.
This is in the middle of the ABM process, and a key part of what's often called the flipped funnel approach: AKA land and expand.
This is all about landing that first lead within an organization that you can then use a variety of engagement methods between sales and marketing to transition through the pipeline to a successful sales close.
What is website personalization?
Because so few organizations are doing any form of website personalization, it's sensible at this point to explain the concept. Website personalization is the act of giving different visitors to your website a different experience depending on who they are.
If you've ever been through a new B2B website design project from start to finish, let's see if the following statements strike a chord:
"We need to have more images of this particular industry."
"We'll need to change this text because it's going to upset this type of customer."
If you've ever had these types of conversations about your website, you'll know it's very difficult to get all your ducks in a row on a B2B website. It's usually because B2B organizations often service different industries and different types of customers.
What's the impact? You end up generalising everything to the point where perhaps only a small percentage of your website's content is relevant to a particular company or individual browsing your website.
This is why many marketers are seeing website personalization as one of the core focus areas for investment in the coming years. It is the holy grail of website design. It offers you the ability to provide different text, images, links and call to actions depending on who's browsing the site.
If you're got a decent imagination, hopefully something will have clicked there. You'll have started to think about the different applications: how you could structure websites for different companies, different groups of companies – different industries even. Showing SMEs different headline messages to your main accounts. What about showing the company logo to your most precious accounts? Done in a flash.
The sky really is the limit when it comes to website personalization.
ABM vs Marketing Automation
I thinkin the wider context of B2B marketing nowadays, it's not a case of which of these approaches works best. For many businesses, a blend of the two megatrends in marketing is probably where B2B demand generation should be right now.
But it's important to make a very important distinction between the way to two methodologies approach website personalization.
Often when I have early conversations with people looking for ABM consultancy support, when we get into the topic of website personalization I get a 'closed for business' sign.
If I had a dollar for every time someone said to me "we're already doing website personalization, we have Hubspot," I wouldn't still be buying those £5 bottles of red wine from Tesco.
The whole premise of website personalization at the marketing automation system (MAS) level is making a distinction between visitors to the website (pre-form fill) and those known contacts (post form fill). All of this is carried out using a cookie drop at form fill stage.
Let's run with the Hubspot example, but you could pick any MAS. Hubspot boasts the 'smart content' tool, which gives you the ability to show people who have never engaged with your content one message, then show individual contacts who have another.
Don't get me wrong, that's cool. But it's cool in the context of Inbound Marketing.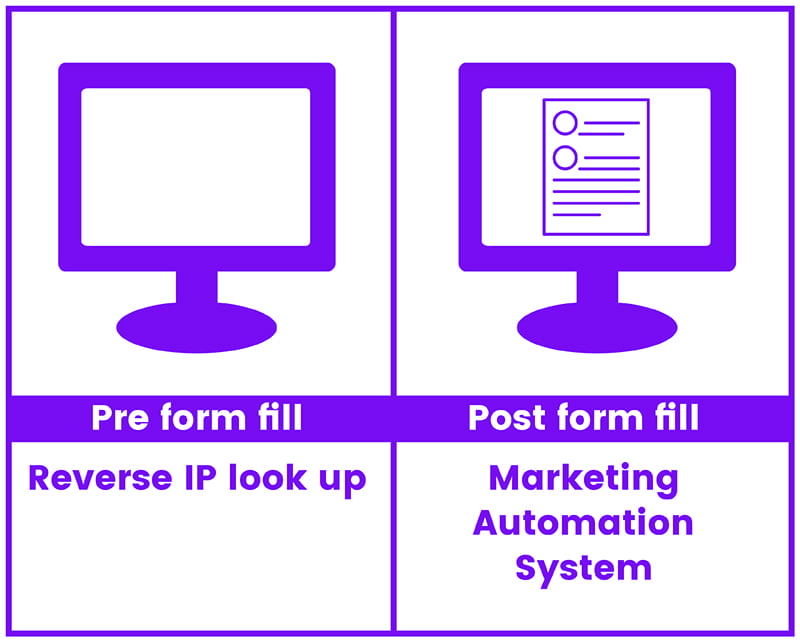 With ABM personalization, in the first instance, we're interested in that preform fill stage.
Much like when we put together bespoke advertising campaigns for individual accounts in a previous article, here we want specific messaging for individual companies whenever they visit your website – even if it's the first time – as we need to give ourselves the best possible chance of generating a lead.
To put it another way, with ABM we don't rely, or indeed use, form fill data to personalize until the 'expand' part of the land and expand methodology is complete. And using a range of tech tools now available, we can personalize website content for ABM campaigns like it's going out of fashion from the get go!
Personalization the ABM way
So we're clear on what it is, we're clear on how it's different to what you may already be doing, and now we're going to get into the meat: how to get it done ABM style!
In fitting with the rest of the series, I'm going to run through the different tech that's available to do this and the relevant merits or otherwise of the systems using our experience of helping clients to do this day in, day out.
There are loads of other tools we could mention here, but you can't go wrong checking out this killer list:
ABM for WP
WordPress is the most popular website CMS in the world right now. Boasting a 60% market share, B2B marketers across the globe are using WordPress to hack together an incredible growth stack for a fraction of the price of other all-in-one tools.
With it being so popular, it was only a matter of time until someone built a dedicated ABM tool for WordPress websites. Enter the ABM for WP plugin.
It works by matching the corporate IP address of a website visitor with company information held by ABM for WP.. This means, crucially, it works pre-form fill.
ABM for WP uses Kickfire data for firmographics, which as we covered in the Analytics blog, is really the market leader when it comes to providing firmographic data to power ABM.
As the 'how-to' guide says, You can create fixed personalizations: this pulls through the company information into web pages. You would use this for showing a company's name back to them as part of a personalization.
You can also create flexible personalizations: this allows you to show specific messaging, links and images to individual companies, or groups of companies using a range of parameters like industry and company size.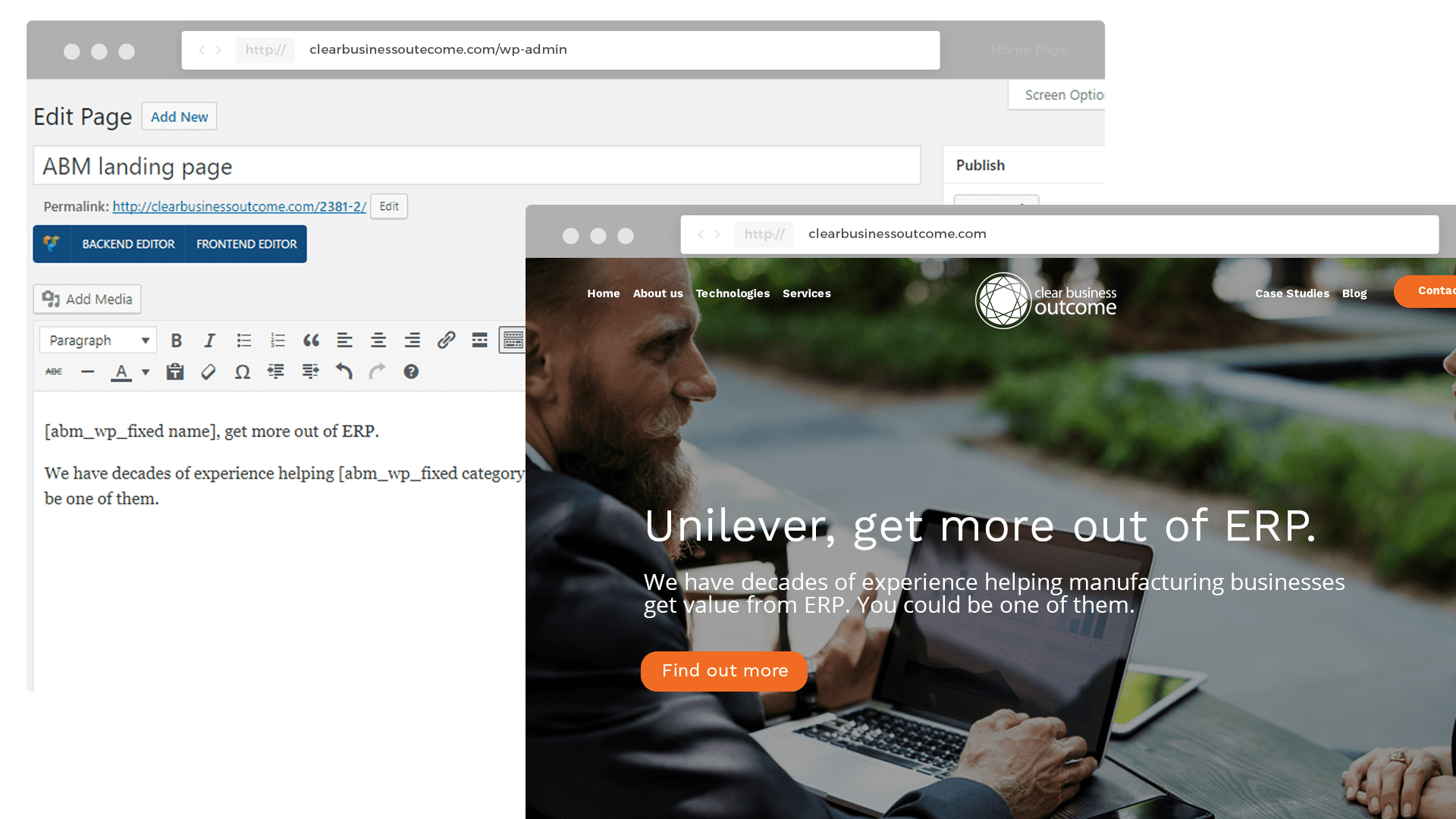 ABM for WP is the lowest cost way to do ABM website personalization on this list by some way. It's the only tool that really appears to marketers in SMB or mid-market organizations who don't have tens of thousands of dollars to spend on doing website personalization at scale.
Consequently, it's the only tool that will show you public pricing of how much it will cost. Go figure.
It's Achilles heel though is its laser-like focus on WordPress. If you don't run WordPress, this tool is about as much use as a chocolate fireguard and you should check out the other players pronto!
Bound
Formerly known as GetSmartContent, Bound is a platform that provides visitor analytics and website personalization in a single platform.
The logic is that you can use the visitor analytics to identify who you audience is, then use the same system to create content that's personalised just for them. Decent logic then.
It has a really good looking user interface and dashboard. It looks and feels like a premium product, and is priced as such.
Bound have really doubled down on the integrations into other marketing systems. It plugs in in neatly to ABM tools many businesses are already using: LInkedIn, Marketo, Eloqua and more. So it's a neat way to create a more rounded ABM tech stack by combining it with other tools.
Another real strength of Bound is its native support for A/B split testing. This means without any other tools you can test and deploy micro-tests to put your personalizations through the mill. You can then use the analysis to refine and improve to your heart's content.
Often in life you get what you pay for (see previous comments about wine) and if you're looking at a tool that has powerful analytics, you should definitely check out Bound.
Demandbase
Demandbase is probably the best known account-based marketing solution out there at the moment. I haven't seen any independent stats, but it's almost certainly the market leader in dedicated account based marketing tech.
And for good reason. They've got a really good product. I've been working with Demandbase tech since 2015 and it's fair to say since that time they've been able to put a recent round of $65m investment to good use.
They've moved away from a combination of individual products to offering an all-in-one account-based marketing suite in a from a single dashboard.
It's fair to say the user interface is stunning. Every detail has been accounted for, and the platform makes it really easy to run loads of different ABM campaigns.
Obviously we're interested here in website personalization and Demandbase has one of the best tools out there. You can't be a darling of Silicon Valley and get a 8 figure investment if you don't do AI. And Demandbase has really shown how their AI focused site optimization tool can take personalization way beyond firmographic data (although it does that too).
Site Optimization works by putting specific content in front of each visitor using proprietary AI technology. It supports loads of different layout styles and is really easy to set up.
I like the direction this is going in. As ABM marketers, many times we are working with, at best, presumptions based on research. If AI helps us all to make better targeting decisions for our account list, then I think it will help take the ABM personalization market and indeed ABM in general in an exciting new direction.
Marketo
Marketo have done a really good job of straddling the ABM and marketing automation interface we explored earlier in the article.
They've come to the table with a really powerful web personalization suite that not only personalizes content for individual personas after form fills, but also has more B2B focused functionality like firmographics (company name, industry, company size) but also – quite interestingly – customer journey.
This means you can treat accounts in the awareness stage of the buyer's journey differently to those who are already evaluating your product or services vs the competition.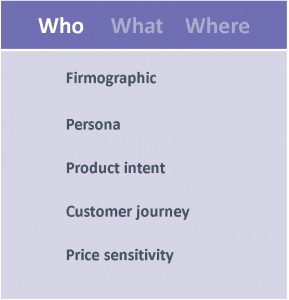 Suffice to say, you can go deep with the Marketo tool: it's powerful.
The Marketo tool is only really relevant to Marketo customers. To get the real benefit of most of the functionality, you'll need to be a Marketo account. This will probably naturally lean this solution more to bigger companies.
Choosing the right tool
As you can see, when it comes to choosing the right tool, it's not actually going to be an easy choice.
If you run your website on WordPress, then ABM for WP is the way to go as it works natively as a plugin to WordPress.
If you're running a different content management system for your website, then you're in for a bit more hard work. Because the market is still new, there's not really a low cost to entry yet like there is now with MAS systems.
I would always say start with the strategy. What does your ABM campaign look like as a whole? Who's on your list? How do you feel personalization could be used to convert them? You can use this insight to then build a statement of requirements that sets out what you need in a website personalization tool.
Once you have your statement of requirements, then it's going to take a fair bit of time to explore all the options. There's not really any publically available pricing, and very few screenshots or videos of any of the tools out there.
So you're going to have to fully engage with software vendors, beauty parade demos and go through the sales process to some degree of each of the vendors to get a feel for each of the tools.