5
min read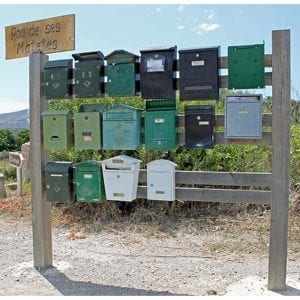 Dropshipping products from AliExpress are cheaper than other countries but shipping can take a long time.
China-based AliExpress has been the go-to platform for dropshipping business owners looking for great products to sell in their dropshipping stores for years. Although many countries also offer to drop ship like the USA, Canada, and India, China remains to be the most popular hub for dropshipping in the whole world. Despite the long shipping times with AliExpress compared to domestic dropshipping suppliers, many dropshippers still prefer the former because of the low-priced products and cheap shipping costs. It's no wonder why dropshipping beginners with a small budget prefer to source products from AliExpress suppliers than anywhere else.
Although many AliExpress dropshipping suppliers offer fast shipping, most dropshipping business owners choose the cheapest ones or the free ones. This way they can get higher profit margins with the products they're selling than they do with faster yet more expensive shipping methods. However, cheaper shipping means longer shipping too and customers might not be happy if it will take weeks for their purchases to arrive.
What are the shipping methods that can reduce shipping time at a cheaper cost?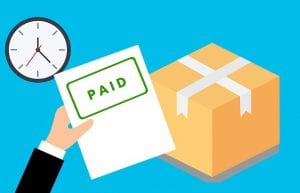 Two shipping methods that you can explore are AliExpress Standard Shipping and ePacket. Compared to the supplier's free shipping method that can take more than 60 days to arrive depending on the destination, AliExpress Standard Shipping and ePacket can cut down shipping time for a few days. To know which is the best shipping option for you, consider the advantages and disadvantages of each shipping method.
AliExpress Standard Shipping: The Advantages and Disadvantages
AliExpress Standard Shipping is a shipping logistics owned by the Alibaba Group, the company that also owns AliExpress. It works in a similar way as Amazon FBA in which the products for shipment are sent by the supplier to AliExpress warehouse. As the shipping terms and the tracking numbers are controlled by AliExpress representatives, dishonest suppliers cannot give fake tracking numbers. AliExpress Standard Shipping is a postal service that works with intermediates like Correos, Direct Link, Posti Finland, Singapore Post, and others. AliExpress Standard Shipping would typically cost $2 – $3 depending on the shipment destination.
The Advantages:
Free shipping to some destination countries like the USA
Can track packages with tracking numbers
Most AliExpress dropshipping suppliers have this option
Products are packed in good quality packaging
It is a reliable shipping service wherein packages usually arrived within 15 to 45 days
The Disadvantages:
Packages are delivered to the Customs office and have to be picked-up sometimes
Customers might need to pay Customs duties
Packages can get lost among the hundreds or thousands of packages
Only ideal for smaller items

ePacket Shipping: The Advantages and Disadvantages
The ePacket shipping option being subsidized by the U.S. Postal Service made through special agreements with the national postal carriers of China and Hong Kong in 2011. In this arrangement, light-weight, tracking-enabled packages can be sent to the USA from China at very low rates. The rates are so low that shipping the same packages within the US cities will cost more than shipping from China. However, not all packages are qualified for ePacket shipping.
The Advantages:
ePacket is faster than other standard shipping methods being used in China
Cheaper than other shipping/delivery service
Shipment delivery confirmation and tracking number are provided
Estimated shipping time is 7 – 30 days
The Disadvantages:
There is a limitation as to the size and weight of packages
ePacket delivery of certain items is exclusive to specific countries only
ePacket is not available worldwide
Customers might need to pay Customs duties
I suggest that you check out this article to learn more about the pros and cons of ePacket as a shipping option.
Should you use AliExpress Standard Shipping or ePacket for dropshipping?
The estimated shipping times when dropshipping from AliExpress depend on where they will be sent. In some instances, ePacket is faster and/or cheaper than AliExpress Standard Shipping or vice-versa. However, they both have a limitation when it comes to countries that they served. Like for example, if you ship this product to Australia, AliExpress Standard Shipping is not available in this country.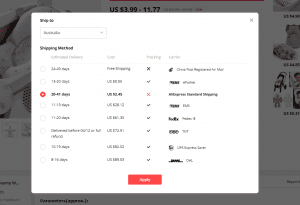 If you want to send it to the USA, you can get free shipping with AliExpress Standard Shipping and will arrive one day ahead of ePacket.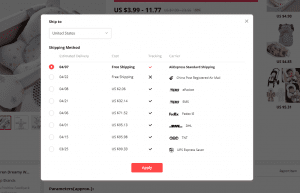 If your customer is located in the UK, shipping time for both options will take 20 – 40 days but AliExpress Standard Shipping charges lower than ePacket.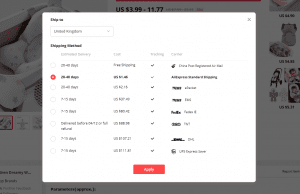 When the product will be shipped to Canada, ePacket is the cheaper and faster option.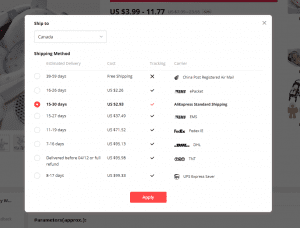 Though long shipping times do not stop customers from buying your products, you should make sure that this is communicated clearly to them before they buy anything. This way you can avoid complaints, chargebacks, and negative reviews from unhappy customers. In addition to choosing a faster shipping option, you can explore other measures in this article.
In case of shipping delays due to factors that you can't control such as deadly virus outbreaks, bad weather, natural disasters, and accidents, this other article offers 5 simple methods you can do to address the issue.
Key Takeaway
Both AliExpress Standard Shipping and ePacket are faster shipping options to send products to your customers. Although they have their benefits and limitations, you can take advantage of the benefits they offer to grow your dropshipping business and deliver the best possible service to your customers. Why pick one when you can use both shipping methods? By having both options, you'll have an alternative method in case the first one you choose won't work.