4
min read
The Top 10 Dropshipping Products for the Kids Niche
As with a lot of my recent posts, I'll be mentioning why now is a good time to sell these products during quarantine and lockdowns. With kids staying at home, there are not as many places to go, nor friends to see. Kids are going to get bored. It's a fact. What better way to keep them happy than with new toys and new clothes? Here's our suggestions on which products you should add to your store to keep your pockets happy.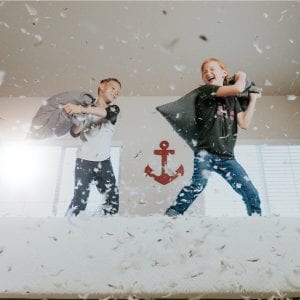 1. UNICORN HOODED SCARF
With a perfect score of 5 stars on AliExpress, your sales will thrive! Comfy and stylish, this Unicorn Hooded Scarf is a real winner.

2. WIZARD HOODIE
Hoodies are some of the best Kids Dropshipping Products. And this rad Wizard Hoodie is an absolute must for all the cool kids out there. Combo these with some wizard wands, posters and other accessories for a happy young wizard!

3. HILARIOUS DRINK SPILL PRANK TOY
There's nothing like a good prank! Everyone will go crazy for this one. See this funny YouTube prank video… The employees reactions had me in tears.

4. 3D MARIO FRIDGE MAGNETS
Drop the virtual games and make a real life Super Mario level! These magnets will give kids hours of REAL fun in a way that a smartphone or tablet can't.

5. BEAN SQUEEZE
Stress relief toy for adults, play toy for kids. 15x sale for the adults, cute design for the kids. Everybody wins!

Yes! My customers will love this!
6. BABY ANIMAL U-PILLOW HEADREST & NECK PROTECTION
Keeping your babies snug and safe in the car are a MUST. The U-Pillow acts as a comforter that can protect your child in collisions and rapid movement. On a brighter note, it also look really cute!

7. BB CUTEST WARM BUNNY ROMPERS
With 74000 likes on social media and over 4500 recent orders, we're sure this is going to be a winning product.

8. SUPER LIGHT N' BRIGHT® PROTECTIVE PLAY HELMET
Nice $25 profit margins on these ones. Lower the stress of worrying about your young child and get him a play helmet. When he's running around carelessly, his noggin will be safe if he slips and falls.

 Safe and cute! See more details
9.
Peek a Boo Plush Teddybear
Over 4500 recent orders on AliExpress and a neat $30 profit margin. I'm not afraid to say – as an adult – that I have a few teddy bears and stuffed animals sitting my room, this bear might be next one!

10. SWEET UNICORN WEARABLE BLANKET
Cute product. Definitely something to recommend your store customers that are interested in the Bunny Rompers (#7.) . Great to give customers multiple options, they might even purchase both!

In conclusion
I'm sure you'll enjoy seeing the fruits of success from adding these winning products to your store
We're hoping that families everywhere will improve their relationships and become closer to each other as a result of the quarantines. Now is a good time to shower the kids with gifts. Let me know how you go with these products!
If you found this article useful. We are 100% sure you will find Product Mafia useful! We upload winning products on a daily basis. Check out all our winning products here!