5
min read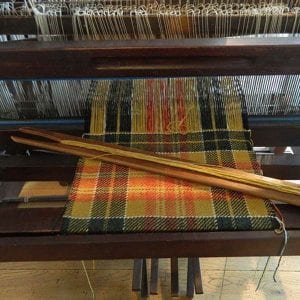 Alibaba allows you to connect with suppliers and manufacturers to source your products right at the comfort of your home.
Selling branded products in your eCommerce business offers a lot of advantages than dropshipping products. If you are ready to turn your dropshipping business into a branded eCommerce business or just want to start a business selling products that you designed, Alibaba is where you can find suppliers that sell products in bulk at wholesale prices.
What is Alibaba?
Considered to be the world's largest eCommerce marketplace, Alibaba is a wholesale directory where you can find manufacturers of ready-made products that you can customize or can manufacture unique products based on your design. It's the go-to platform of entrepreneurs who want to maintain physical inventory and want products made exclusively for them to sell.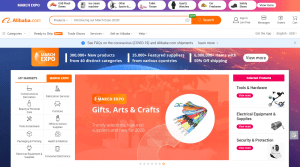 If AliExpress is where dropshipping business owners source products without owning inventory, eCommerce companies that buy their stocks upfront go to Alibaba. Although some AliExpress suppliers allow buying products in bulk at wholesale prices, a dropshipper cannot drop ship products directly from Alibaba suppliers. Not unless the Alibaba supplier also offers dropshipping program on AliExpress.
Commonly compared to Amazon, Alibaba is not a storefront like the popular American multinational technology company. Alibaba is just an online directory and does not sell anything at all. As Alibaba is not a retail website, you will be working with a 3rd party, the supplier, who is not affiliated with Alibaba. Other features of Alibaba include:
Products can be purchased at wholesale prices.
There's a massive collection of products to choose from.
Products are unbranded which you can rebrand before selling.
Manufacturers can customize products with your designs and specifications.
You can work directly with manufacturers who will produce your unique products.
However, the suppliers that are listed on Alibaba are not all factories. There are agents, wholesalers, and trading companies as well which is why you should know what to look for in the right supplier for your manufacturing needs.

What are the different types of Alibaba suppliers?
Just like in AliExpress, there are many frauds on Alibaba. You have to be careful in vetting your supplier so you will not get scammed or pay more than you're supposed to. Work only with suppliers that can provide the volume of products that you need.
Factories
When you search for suppliers on Alibaba, factories are the most ideal type of supplier to look for. They are the companies that own the factory that can produce your products based on your design and specifications. However, they might require a high minimum order quantity (MOQ) to work with you.
Trading Companies
These are companies that act as middlemen between the factories and the merchants. They offer a wide array of products and make money by adding a specific amount to the factory price of the goods they supply to merchants. If you're only looking for a small production run, trading companies are the suppliers that you should work with as factories may not accept small scale contracts.
Wholesalers
Similar to trading companies, wholesalers also add a margin to the factory price of products to generate money. Wholesalers enable eCommerce businesses to buy goods locally rather than from overseas factories to cut down lead times and shipping times.
How to assess the right Alibaba supplier?
Alibaba requires all suppliers to become a "Gold Supplier" and to pre-qualify a supplier has to pay a costly fee.  A supplier with this badge is less likely to scam you as they pay good money to boost their exposure.
Other characteristics to consider when vetting your suppliers are the following:
The longer the supplier has been listed, the more likely they are to be reputable.
The supplier that has a name with 'trading' or 'industrial' on it is a trading company, not a factory.
Their business license tells you what kind of company they are: factory, trading company, or agent.
Looking at their catalog, a factory produces products from specific raw material while a trading company offers multiple product categories.
How to look for suppliers on Alibaba?
To search for suppliers on Alibaba, choose the 'Suppliers' search option in the search bar. Type the category of the products that you want to sell then hit enter.

Here's an example of finding suppliers for home décor on Alibaba. The suppliers with the "Gold Supplier' badge are displayed at the top of the search results.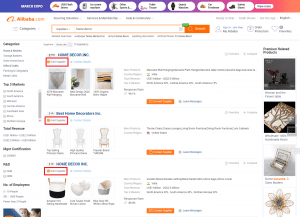 If you want to contact them, just click on the Contact Details under their names to be taken to their Alibaba profile page. There you will find contact information on different communication channels that they're using such as WhatsApp, email, Skype, and a contact form.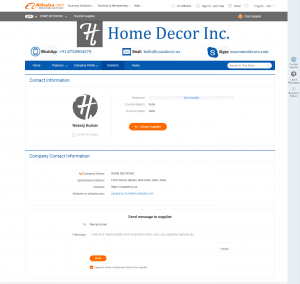 What are the pros and cons of buying from Alibaba suppliers?
Just like other sourcing platforms, there are pros and cons to sourcing products from Alibaba. Before moving forward, make sure to consider them so you'll know what to expect.
The Pros:
Save a lot when you source products from Asia than in the US.
Choose from millions of products available on all niches.
Customize products and packaging with less hassle.
Check product quality before it ships to your customers.
Work directly with manufacturers of your products.
Determine quality suppliers to avoid problems later on.
The Cons:
It takes a long time to receive your products.
You need to monitor your supply chain to avoid exhausting your inventory.
Minimum orders can be expensive.
Sizing differences can cause problems with American customers.
The quality of products might not be as agreed.
Probability of broken or faulty items due to mishandling or accidents during shipping.
You handle order fulfillment and shipping to your customers.
Conclusion
Buying products from Alibaba suppliers can be a great way of increasing your profit margin. Compared to US suppliers, Chinese suppliers on Alibaba offer cheaper prices. And if you're lucky to work with a great supplier, you can get good deals and good quality items from them. However, you have to do research in advance and vet your suppliers carefully. Alibaba is best suited for eCommerce business owners who want to private label products and get the best pricing possible.