4
min read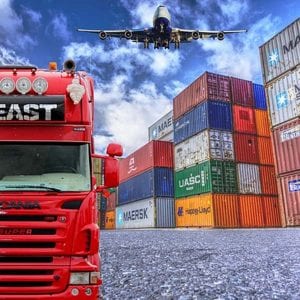 Fast shipping is one of the main factors why customers will choose to buy from your dropshipping store rather than your competitors.
Shipping and delivery are matters of high importance and deep concern for dropshipping entrepreneurs. As customers expect to receive their purchases as fast as possible, dropshippers are on the lookout for the fastest and cheapest means of shipping their orders. They also have to ensure that the shipping service is reliable to avoid damages, delays, and loss of items during shipment.

What is the common method to speed up package delivery?
ePacket has been a popular shipping option for AliExpress dropshipping suppliers for years. It provides advantages that help them deliver products to customers faster than their usual shipping methods. Though ePacket shipping also has disadvantages, the benefits outweigh the downsides which are why almost all AliExpress suppliers offer it as one of their shipping options. I suggest that you learn the pros and cons of ePacket in this article.
Yet, ePacket shipping is not the only way to cut down shipping times. There are other ways you can explore to provide fast shipping in your dropshipping store and let's discuss them today.
AliExpress offers multiple shipping options for every need and budget. You can choose delivery methods with extra fees and without any or standard shipping or expedited shipping. These shipping options include:
China Post Air Parcel
China Post Ordinary Small Packet Plus
China Post Registered Air Mail
DHL
DHL Global Mail
e-EMS
EMS
ePacket
FedEx
HongKong Post Air Mail
HongKong Post Air Parcel
Russian Air
S.F. Express
Singapore Post
Special Line-YW
Sweden Post
Swiss Post
TNT
TOLL
UPS
Now let's proceed to the different strategies you can employ to speed up the delivery of packages to your customers.
Strategy #1: Find the fastest international shipping method on AliExpress.
Dropshipping suppliers on AliExpress offer a different set of available shipping options. To find out the shipping methods that a particular seller offers, check out the dropdown menu in the shipping option located on the seller's product page.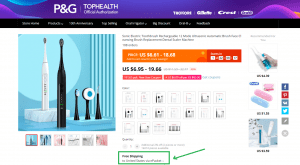 The shipping cost and shipping time depend on the destination of your shipment. Let me show you an example of how the fees and delivery time varies in different countries.
Example 1 – Shipping to the United States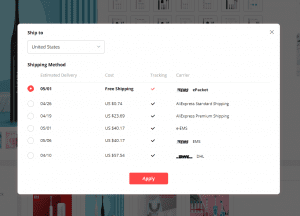 The fastest shipping method is DHL but it is the most expensive among the seller's available options too. If you choose free shipping with ePacket, the package will arrive on its destination on the same date as shipping it via e-EMS but you have to pay $40.17 for the shipping fee.
Example 2 – Shipping to Australia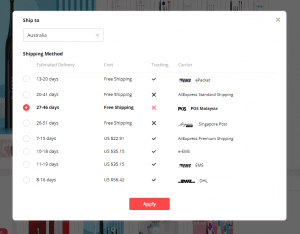 If you ship the same product to Australia, the fastest shipping service is AliExpress Premium Shipping. Its shipping fee is much lower and arrives earlier compared to DHL.
Example 3 – Shipping to France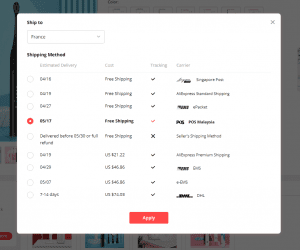 Shipping to this country will cost more than shipping to the United States via DHL. Yet, a free shipping option with Singapore Post will only be a week late.
Now you see the difference? When sourcing from AliExpress, you can also improve your shipping times by taking these steps:
Ask your suppliers for faster shipping options.
Sell dropshipping products from US suppliers.
Work with a supplier with the shortest processing time.
Avoid selling high-ticket products.
If you, however, choose to address the long shipping times in dropshipping from AliExpress for good, this article discusses these strategies you can explore:
Strategy #2: Own the inventory.
Strategy #3: Use AliExpress alternatives.
Strategy #4: Work with a dropshipping agent.
Final Words
As you can see, there are several ways to provide fast shipping in your dropshipping store. Try them out already to find out which strategy works best for you.