4
min read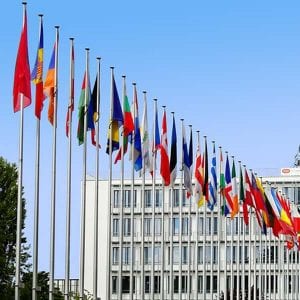 The USA is the largest market for dropshipping but its thoroughly saturated state increases competition and cost for advertising.
The US consumers are popular targets for dropshipping businesses, both operating locally and from overseas. With the USA currently ranked as #2 biggest economy in the world (China on top) and having the most fully developed eCommerce industry around, the country seems ideal for dropshippers to sell to.
Although there is a plus side to dropshipping to the US, there are some drawbacks that dropshippers have to deal with including:
The US has very competitive markets.
With eCommerce giants like Amazon, eBay, Etsy, and Walmart and many small to medium businesses popping up all the time, dropshipping products to the US is pretty hard. Although not all of them operate in a dropshipping model, the level of competition is high which makes marketing to consumers very expensive for businesses.
Americans are the most demanding shoppers.
Consumers are used to two-day shipping with Amazon and they view it as standard with online shopping. It's often impossible for a beginner to keep abreast of the existing dropshipping market conditions for this reason.
You need to spend more on ads to stand out.
For a dropshipping beginner with a limited budget, this would be a big concern. Your ad spend will surely go up but the conversion will not be desirable at the early stage of your Facebook advertising. Without a sufficient budget, you can end spending all your funds on running ads without seeing returns.
The USA might be the leader in bringing in dropshipping sales but these drawbacks make it not sustainable especially for beginners. There are other lucrative markets out there. By focusing only on US customers, you are missing a lot of potentials that other countries offer like less competition and lower ad spend.
Whether you are looking to expand or just getting started with your dropshipping business, this article will be useful for deciding which markets to sell your dropshipping products.

What to consider when choosing another country?
Before you test another market for dropshipping, there are certain factors you have to consider. These factors include a large English-speaking population, huge purchasing power, and sufficient delivery facilities to avoid possible issues later. All of these affect the potentiality of a given market. As you will see, sometimes a small market having all these factors can generate more income than confining your endeavors to the huge US markets.
#1 It should be an English-speaking country.
English-speaking countries can be marketed to without translating your whole store into their local language. Although non-English speakers can still buy from your dropshipping store, favoring the markets with English-speaking consumers should be something you have to keep in mind. There are about 73 countries worldwide that are using English widely and you can find the top 25 of them below.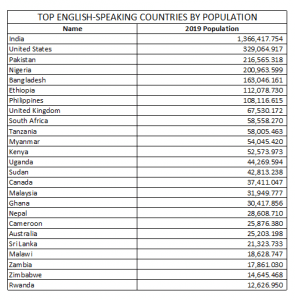 #2 The new market should have substantial purchasing power.
Aside from the country being able to speak and understand English, you should also pay attention to their spending capacity. For example, a thirty-dollar shirt might be considered a fair price in Norway but, it will be deemed too high in the Philippines. You need to consider these differences as it may greatly affect your store's conversion rate. According to the International Monetary Fund (IMF), these are the countries with the highest GDP as of 2019. China tops the list followed by the United States, India, Japan, and Germany respectively.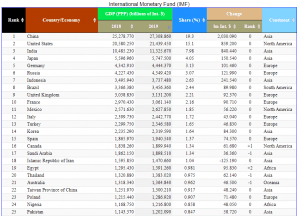 #3 There should be an established delivery infrastructure.
Research first if there is a postal infrastructure in the country that you want to sell to. Some remote countries don't have it yet. It will be hard to track a shipment to customers in these places plus there might be an extra delivery fee. Look for countries where ePacket is available. It is a cheaper and faster delivery method for China's manufactured products. There are 39 countries that support ePacket delivery as of September 2019.
Australia
Austria
Belgium
Brazil
Canada
Denmark
Finland
France
Germany
Greece
Hong Kong
Hungary
Ireland
Indonesia (currently in a trial run)
Israel
Italy
Japan
Kazakhstan (currently in a trial run)
Korea
Luxembourg
Malaysia
Mexico
Netherlands
New Zealand
Norway
Poland
Portugal
Russia
Saudi Arabia
Singapore
Spain
Sweden
Switzerland
Thailand (currently in a trial run)
Turkey
Ukraine
United Kingdom
United States
Vietnam (currently in a trial run)
You should test first the new market particularly developing countries. You might get lucky and hit the jackpot on them than in the USA.
If you plan to use Facebook as the major advertising platform for your dropshipping products, you should also consider the level of Facebook penetration in the potential country. Your target audience must be on Facebook for your ads to reach and engage them. Based on Statista, as of January 2020, India is the country with the highest penetration followed by the USA. Other countries that completed the top 10 are Indonesia, Brazil, Mexico, Philippines, Vietnam, Thailand, Egypt, and Turkey.
In Conclusion
Don't focus your dropshipping operation on US consumers only. Explore other countries as you might get profitable in selling dropshipping products there. Take into consideration the three main factors in marketing to new countries such as their English-speaking ability, their purchasing power, and the availability of delivery infrastructure to enable customers to receive their orders. Testing non-US markets is important especially if you have a small budget. They might be smaller and cheaper to market compared to the USA but, they might give bigger profits than you expected.