4
min read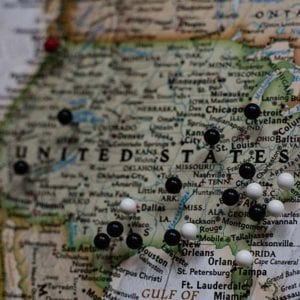 The US market has been a very lucrative source of income for dropshipping businesses over the years but then, Coronavirus pandemic happens.
Disclaimer: The situation on the Coronavirus pandemic is constantly changing. We try to keep this article up to date to provide accurate information that would be helpful to the dropshipping community.
Despite the tougher competition, many dropshipping businesses are still focusing their marketing efforts on US consumers. Dropshipping issues like long shipping times and poor quality on some Chinese products did not prevent them from selling dropshipping products. Even the US-China trade war did not dampen their spirit of carving themselves a niche in the eCommerce industry using the dropshipping model. However, the Coronavirus pandemic came causing the US to close its borders and banning foreigners to enter the country. 
As more and more Coronavirus cases in the US are emerging, cities and states began enforcing the quarantine. It will not be a surprise if America will also implement the nationwide Coronavirus lockdown set by France, who is only two weeks ahead with their fight on the deadly virus. The probability of this event happening worries entrepreneurs about US dropshipping. So, let's have a look at what's going on with dropshipping to the US for you to know what to expect these coming days.
Fulfillment of Orders by Dropshipping Suppliers
Regardless if you're sourcing products from local dropshipping suppliers or abroad, communicating directly with your suppliers can get you accurate and updated information. It is your responsibility as a dropshipping business owner to ensure the availability of stocks and get the current processing time of your suppliers. This way, you'll be able to provide the correct information to your customers when they can expect their orders to arrive.
Dropshipping from AliExpress Suppliers
First, let's focus our lenses on dropshipping products from AliExpress. With coronavirus receding fast in China, many Chinese companies are back in business. Factories are operational again and AliExpress suppliers are fulfilling orders from dropshippers. To ensure that the dropshipping supplier that you want to source products from are already on the full operation, contact them before you start running ads and accepting customer orders. 
Dropshipping from US Suppliers
Washington, DC and at least 45 states have already implemented policies in closing down non-essential businesses to delay the spread of the virus. Depending on the state, non-essential businesses category can include recreational spaces like gyms, daycares, museums, movie theaters, malls, and music venues as well as personal care retailers like spas and salons. Twenty-four states already issued "stay-at-home" orders, canceled sporting events, and closed schools as additional measures.
If your dropshipping supplier or manufacturer falls under the non-essential category, disruption of business is possible. Thus, contacting them directly will help you plan out strategies to lessen the impact of the restrictions on your dropshipping business. Being on top of the situation has advantages so make sure that you are aware of the restrictions that have been imposed already on all 50 states of the US.
Shipping to and from the USA
Currently, shipping companies in the US are working 100% because stopping would greatly affect the economy. Most passenger planes are shutdown but cargo lines are increasing. Nowadays, passenger planes are being used not only to fly cargo within the country but, from the US to other countries and vice versa as well. As both airline companies and shipping companies are essential to keeping the country open and running, they don't need to shut down.
Shipping to and from the US will take longer than usual and might cost more but will not stop as many dropshippers feared. Dropshipping products to the United States is still alive despite the travel restrictions. DHL, FedEx, and the United States Postal Service continue delivering packages to anywhere in the United States. Thus, dropshipping at these times is viable.

Why Dropship Now?
Today is the best time to start your dropshipping store. You can focus on product research and studying great strategies to be profitable in these challenging times. Sell dropshipping products that are essentials and can help people who are staying home during the crisis. People are working from home and children have to stay home as well. Work-from-home products like computer chairs, home gym equipment, and learning resources for children are trending searches on Amazon.
Although people will be buying less of everything, they will be stocking on essential items. You would do well to pick products in these 8 niches and stay away from non-essentials until such time that the Coronavirus pandemic has blown over. Check out this article to learn the 6 ways you can boost your sales during the virus crisis. When you work now, you'll be ahead with the competition when the pandemic is over.
Final Words
These times are tough but the Coronavirus crisis won't last forever. If you're already dropshipping, try to implement strategies to protect your dropshipping business from negative impacts and make use of the advantages that the situation offers. Meanwhile, if you haven't started yet, it's time to stop postponing things and build your dropshipping store. No matter if you focus on US dropshipping or not, this model will work with the right product and marketing strategies.